Heres the deal...MooM are a improvisational rock band from England.
We like to think that our music lends an original perspective to songwriting and improvisation.
We've been on our journey through music for nearly 10 years, so we know a few moves.
By the way...we like to jam...and yes, we can hip-hop.
---
THE MEMBERS OF MOOM DOJO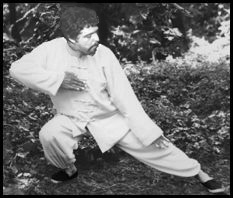 Kris_MooM (Dojo composer/Shaolin guitar forms)
Training in the gardens.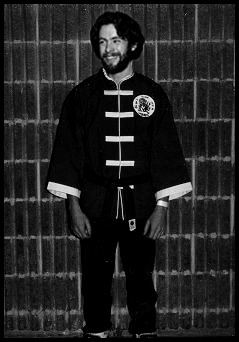 Jim_MooM (Dojo bass master/Slap fighting)
Outside the dojo,encouraging the students.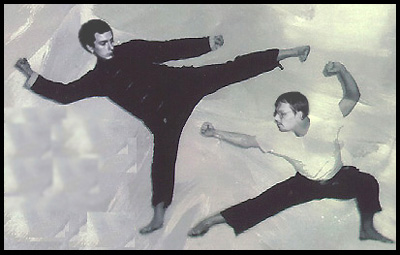 Greg_MooM (Dojo drummer/stick fighting)
Mark_MooM (Dojo guitarist/sliding finger kung fu)
Demonstrating MooM_Dojo styles for a martial arts magazine.
---
MOOM ROOTS

Ain Bum Beef:(1987-1990) Greg Myles (vocals, percussion, keyboards) Kris Hartridge (vocals, guitars) Radical experimental outfit designed to challenge normal musical behaviour. Memorable tunes include "Bed Crumb Baby", "The Magic Jism Jam" and "Chimpanzee." Some of this music will be made available via the gift of MP3 to hardcore MooM enthusiasts via this page in the near future.
Ain Bum Beef 2:(1990-1992)Kris Hartridge(vocals,Guitar)Greg Myles(Drums)Jim Patterson(Guitar)Rob Farmer (bass) Toby Kay (Synth) Petrina Harradine (dancer) Susan Hawkins (dancer) Formed to spread the insanity to a wider audience out in the clubs. The live set would often feature the ritualistic worship of a plastic skeleton named Bele to the setting of demented disco music. Songs included "How Many Beans Make Five", "Technicolor Yawn" and "Skeletoid."
Medicinal Compound (1992-93) Andy Fairclough (Hammond organ, piano) Greg Myles (drums) Jim Patterson (bass) Dave (guitar) Hammond fuelled live psychedelic groove band, performing mainly in the Northampton area. The shows often culminated with "The Massive Psychedelic Avalanche of Death."
MooM 1 (1993-1994) Kris Hartridge (vocals, guitar) Jim Patterson (bass) Greg Myles (drums) Andy Fairclough (organ, piano, electric piano) Toby Kay (wibbles) The first true MooM line up. The band started to play gigs further afield and began a long time friendship with "The Cosmic Charlies"(Europe's premiere Grateful Dead tribute band), with whom Greg, Jim and Andy have often played. MooM supported Merle Saunders on his trip to Europe in February 1994 and introduced him to the taste of Brixton fish n' chips. Later that year MooM financed and recorded "The Helicopter Tortoise Collection" later released on C.D. and vinyl by Delerium Records as "Toot" in 1995.
MooM 2 (1994) Line up the same as MooM 1 with the inclusion of Rob Farmer (rhythm guitar) Although this particular line-up gigged often, only three tracks were ever recorded in the studio, "We are here", "Worries" and "Woodland." These recordings will be made available for free download on this site.
MooM 3 (1994-1999) Kris Hartridge (vocals, guitar) Jim Patterson (bass) Greg Myles (drums) Andy Fairclough (organ, piano, electric piano) Mark Astill (guitar) Continued to perform around the country both in clubs and now more frequently at music festivals. Recorded "Bone Idol" in 1995 (C.D. now available on Delerium Records for your listening pleasure.) Since recording "Bone Idol" MooM have continued writing and developing a diverse live set and are now preparing to record another studio album.
---
FREE RANGE MANIFESTO
The good people of MooM Dojo believe that musicians live a happier, healthier life when given space to roam freely about their natural environment without the intervention of intense farming methods. We are of the opinion that the use of artificial simulated environments in music farming over the past 10 years has lead to an overall drop in the quality of music that consumers have come to expect on their kitchen table. Gone are the golden years of "Live-stock" farming when all a farmer needed was a field and a lot of love; only to be replaced by the gargantuan music corporations which we know, year-after-year produce massive surpluses of unneeded low grade music. MooM are also concerned about the lack of public information regarding current cosmetic testing on musicians. Popular belief holds that these practices have seen a sharp decline since the dark days of the 1980's. Back then, it was common for captive musicians to be subjected to painful makeup procedures and made to endure frightening experiments, which too often involved testing the broken musicians' reactions to waves of disorienting lights and loud explosions. Have we learnt nothing from the past...we can all remember those sorry creatures pacing around their stages; the unnatural repetitive movements...the lack of free will. MooM aims to promote public awareness for the plight of the "Free-Range" music farmers around the globe and would appreciate your support in boycotting any product that seems overtly cruel to musicians or that appears to have been produced in artificial conditions.
---